This is the first time in 5 years that Kerri and I haven't been to the Sundance Film Festival. Last year we decided it would be the last year because of the scene. It has changed so drastically over the years that getting tickets is close to impossible, the nightly rental rate is well over $400 and with all the SWAG rooms and private parties it is difficult for any "normal" person to enjoy what was originally intended. I'm sorry but when I see Paris Hilton and Perez Hilton in the same day nothing about your festival is "independent" any longer.
We started going when Kerri first moved to Salt Lake City for Scott's job. Being that they are not Mormon…life was lonely for her the first year. After several calls, I decided she needed a visitor. I happened to go during Sundance, but had no clue really what it was all about. Back then you could just go get in line for a movie and get a ticket, and that's exactly what we did. It became our January tradition. So many memories have been a part of that trip. Some years we took lots of girlfriends along, and other years it was just she and I.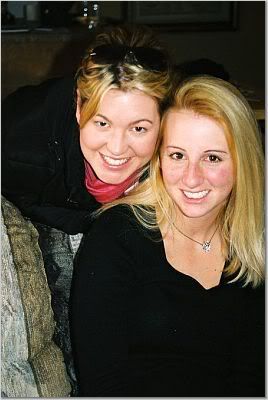 Times have changed, and now almost everyone is married and has or is expecting children, we have all moved further away and all of this makes it harder for the annual event to continue. I figured I would post some of my favorite moments as a tribute to the last 5 years, and to Kerri before her first baby arrives any day now.
1.Kerri, Annie, and Erin in the bathroom with Paris and Nikki Hilton, and then telling the local news that they "Pottied with the Hiltons"
2.Hung-over Colleen harassing poor Peter Scarsgard in the lobby with her banana and raccoon mascara eyes telling him how "amazing" he was in Garden State.
3.Jill being stuck in the limo with Kato Kalin and then trapped at a producer's party all night because no cabs come in Park City after 1am.
4.My drunken ass throwing coconut shrimp leftovers at Ashton Kutcher as he ran down the red carpet. (see picture below..this was right after I threw them)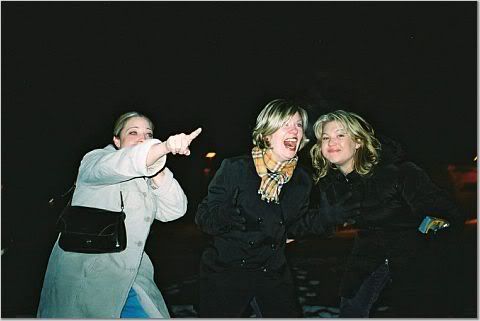 5.All of us staring at a pimp and his hookers at a party and someone asking them if they had taken all the lip gloss in Utah. None of us had seen Hollywood style hookers. I just thought they were underdressed models.
6.Standing front row with the AP photographers for a private Nelly concert, and being asked to move over so that P-diddy and his entourage could sip Crystal at the table next to us. When he left he gave us the bottles!
7.Jill flirting with the gate keeper at Eccles Theater by telling him that she also knows "Paco" (someone we figured out you had to know to get in)….he believed her until a part of her story didn't add up but gave us tickets anyway because of her Oscar worthy performance.
8.Erin yelling Tyra?, then yelling Naomi?...and again when met with a questioning glance IMAN finally turned and said "it's Iman you idiot". Classic.
9.Kerri calling out to Adrian Brody while he interviewed with ET "We love you Adrian", he stopped his interview, yelled back "I love you too", and proceeded to come down the carpet to give us kisses and pose for photos.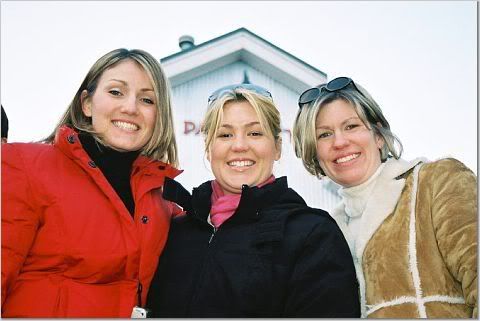 10.Me falling down the stairs in a theater as we were all running to get seats. It was because my uggs were a size too big! I slammed into the wall and my entire purse spilled down the stairs. That fall coined the phrase "man down" and Colleen ran right by me yelling for everyone to save themselves.
Goodbye Sundance. Thanks for the years of fantastic good times!